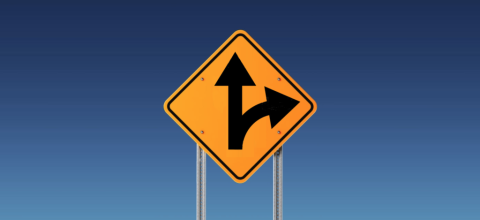 Split migrations are not something you'll need to do often, but when handling a site migration for a large, global brand, it's a very beneficial process. Recently, a major brand needed help with their shut-down project for one of their websites.

However, the brand didn't want to waste all of the resources and SEO value they already had on the website.

It's not uncommon for brands to spin off multiple niche sites or projects, realize that they're not profitable and shut down these services. For example, Google has shut down many projects:

Google Answers
Google Video (led to purchasing YouTube)
Picasa
Google Talk
So many others

The brand I was working with had multiple similar projects in a similar niche that were profitable. They wanted to shut down one project, let's call it Source, and redirect to two sites: Destination 1 and Destination 2.

However, the site had over 18,000 pages, and the brand wanted help making the migration go smoothly and without any redirect mistakes impeding the process.

Let's see what I did to go through the split migration from start to finish.

The Goal of Split Migration

Clients have goals, and my client's goal was as follows:
Shut down the Source website smoothly
Redirect half of the site to Destination 1
Redirect half of the site to Destination 2
Since these were all product websites, breaking pages down into product types helped with choosing which redirects would go to which domain.
While I've done a lot of site migrations over the years, I've never done what I call "split migration." However, it was a great success, but it required quite a bit of preparation to execute properly.
Phase 1: Discovery
First, if you're going to be doing a split migration, you need to have a discovery phase. There is a lot going on here, and you need to identify all of the pages on:
Source
Destination 1
Destination 2
You can use many tools to crawl your site, but for the sake of this project, we relied on ScreamingFrog.
Why?
The tool allows you to connect to different platforms using APIs. In this case, I wanted to gather data from:
Google Analytics
Google Search Console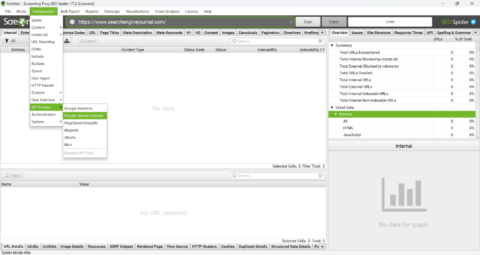 Once all of the APIs are connected, be sure to save the configuration file because it will be needed in the future. If you don't save the config, you'll have to redo everything when entering in the test phase or will have to deal with some wildly inaccurate data.
You're going to be doing this for all three sites in the split migration process.
However, one main issue with this approach is that I couldn't connect to SemRush's API to collect backlink data. This shouldn't be a problem if you're using Moz, Majestic, or Ahrefs. What you would do here if no API exists is collect all of the backlink data separately and add them to a spreadsheet so that you know which pages on all sites have the best link portfolios.
Once you've done that, it's time to move into the setup phase.
Phase 2: Setup
If the sites involved in the migration are massive, you'll be overwhelmed with URLs to look through. What I did was start with the Source site and started to clean up the list of URLs:
Removed duplicates
Exclude some URLs based on parameters
Identify the priority of each page based on:

Direct traffic
Organic traffic
Google ranking
Backlink portfolio
During the setup, it was easier to identify the owners of the page based on where the page would be redirected.
Since I was working with both ScreamingFrog and SemRush data, I decided to create a Google Sheets file that would help me make sense of all of the data collected. I made a template from this file, download the split migration template.

Enterprise sites of this size have many stakeholders and parties involved, so once your file is created, bring them in on the migration process. What worked best during this particular project was to:
Share the file with all parties and owners
Allow these stakeholders to select and identify where each URL should point to after the migration
Since these sites had similar or the same products for sale, most redirects went from: Source product to Destination product.
Of course, you can also pass parameters if you want to track the process.
In total, before the setup phase, I was dealing with 18,000 pages, which I was able to cut down to 11,000. Of course, migrating 11,000 pages is still a major undertaking, but it's much easier than before the filtering process.
You'll find your own filtering parameters during the discovery phase of the split migration. The key to success here is to bring in all stakeholders during the decision-making process to determine where URLs should be redirected. Taking this approach ensures there are no disagreements when the migration is executed.
Phase 3: Test and Retest
Once you have all of your URLs and their respective redirects mapped out properly, it's time to test out everything. You can perform one redirect at a time and test everything, but you're going to spend weeks doing this for 11,000 pages.
Instead, testing on a temporary server is safer and more efficient.
You'll want to create a test server for Source with:
All pages to be redirected
Images / other files not redirected won't matter if they don't have any traffic or rankings
Using a backup file or just creating a duplicate file on the test site will more than suffice. Your goal is to test the mass redirects that you plan on putting in place.
Once the redirects are in place, it's time to:
Open up ScreamingFrog
Scan the site
Update the export in the template provided on sheet SF-Internal ALL
You'll want to compare the most recent scan from ScreamingFrog to find any failed redirects. Work through the failed list, take corrective action and then rerun your test. You'll need to repeat this process until all of the redirects work flawlessly.
Then, when there are no failed URLs to worry about, you'll move to execute the final migration.
Once the final migration is done, you'll want to run a final test and take any necessary corrective action.
Conclusion
Using the same process above, it took about 5 minutes for the final site migration to go through. Of course, the three phases together took a lot of time to complete. However, the client wanted to have a smooth shut-down for their project, and a 5-minute split migration was considered a success.
It took another 15 minutes to run a list crawl to verify that all of the destination URLs were correct.
SEO value indeed flowed from the Source site to the destination sites. It took just one day to see the impact of the migration, with many of the targeted redirects seeing an immediate bump in the SERPs.
Over the next few weeks, the Destination sites saw a significant jump in organic traffic.
For major brands that are closing down massive projects like this one, it makes more sense to perform a split migration than just close the project with all of the resources put into the site being lost.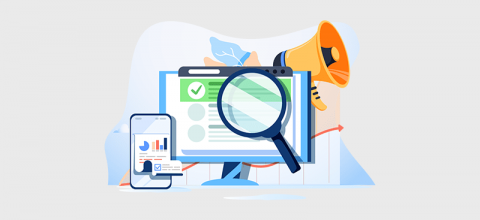 To effectively promote your website, you need special SEO tools that help you get rid of a bunch of routine work, and also free up a lot of time.

In addition, such tools often help avoid mistakes. At the same time, you should not count on the fact that you will find a universal tool where you can simply click a button and get the best results.

This is not the case, using special tools, you get a lot of information about the effectiveness of the site, but decisions on how to proceed further are still up to you.

Here is a list of the best free SEO tools that allow you to monitor the status of your digital assets, showing you the results of the analysis.

Let's start listing the best SEO tools. List is sorted A – Z not by priority.

Analytics

The best tools for evaluating search performance, monitoring SERPs, keywords, and studying competitor sites.

Bing Webmaster Tools

Although Google's similar services are better known, many are not aware that its competitor – Bing Search Engine, offers a complete set of search analytics and site analysis. With Bing Webmaster Tools, you will get useful keyword research, keyword reporting, and data collection.

Builtwith

BuiltWith provides website profiling, competitor intelligence, and website optimization tools.

Their products assist businesses in determining who their competitors are and who uses their product. Businesses can benefit from BuiltWith's website optimizer tool, which provides website optimization and monitoring to help boost a website's online presence.

Bright Data

Bright Data is the leading web data platform in the globe. Bright Data's solutions assist you in retrieving critical public online data in the most efficient, reliable, and adaptable manner possible, allowing you to do research, monitor, and analyze data in order to make better decisions.

Bounteous

By streamlining the flow of data, insights, and interactions across the digital brand experience, Bounteous assists top enterprises in developing big-picture digital solutions. Strategy, experience design, technology, analytics and insight, and marketing are all areas in which we excel.

Data Studio

Google Data Studio is a tool for transforming data into informative reports and dashboards.

This tool is suitable for both marketers and SEO specialists. It collects data from different sources in one place, so you don't have to open different tabs and calculate everything manually.

Google Analytics

As we know, Google Analytics has tools to assist users to identify patterns and trends in how visitors interact with their websites. Data collection, monitoring, analysis, reporting, visualization, and interaction with other applications are all possible with the features. Google Analytics provides a wealth of information about user activity and collects crucial data in real-time.

Google Analytics Annotations

But how do you know if a decrease in traffic (or increase) is due to an update to Google's search algorithm, or perhaps a prolonged holiday? Google Analytics Annotations is a very useful plugin for the Google Chrome browser that overlays additional data on top of your analytics. It will allow you to send screenshots to your clients showing how external factors affect their traffic.

Google Search Console

Google Search Console was created specifically for developers and SEO specialists. This is the best place to get information about how Google indexes and ranks your site. It is one of the best free SEO tools where you can get reliable information about keywords. Plus, you will be able to check if your site has ever violated Google's policies.

Google Tag Manager

With Google Tag Manager you can manage all your website tags without editing code. Google Tag Manager delivers simple, reliable, easily integrated tag management solutions for free.

SerpApi

SerpApi is a real-time Google Search API that allows you to retrieve Google search results in real time. They deal with proxies, captchas, and all types of structured data.

Crawling/Indexing

When you publish new content, you want users to find it in the SERPs as quickly as possible. Here are tools to help you achieve this goal.

Botify

Botify is the first unified suite of apps that combines technical SEO, content, and real rankings. It offers a complete set of features for a detailed analysis of your website. It is possible to check the loading speed of each page, search for broken links and measure the weight of pages.

DeepCrawl

DeepCrawl is one of the best free SEO tools. It analyzes your website architecture to understand and track technical issues to improve your SEO performance.

The tool literally checks every page and gives you a lot of information: how many H1 tags are present on each page, the number of external and internal links, rankings, social media links, etc. There are also convenient graphs and diagrams for better perception of information.

Fiddler

Fiddler is a debugging proxy used to log, inspect, and modify HTTP and HTTPS traffic between a computer and a web server. It is a troubleshooting and web debugging proxy.

With an improved user interface, Fiddler is the most powerful web debugging proxy application for MacOS, Windows, and Linux.

Mazeless

Mazeless can handle large websites with tens of thousands of pages. It is one of the best free SEO tools to help you manage website migrations and identify and address technical SEO issues. Mazeless offers enterprise SEO, ADA compliance, web governance, and professional website audit reports to help you improve your rankings and usability.

Screaming Frog

Screaming Frog allows you to crawl website URLs and get key elements for analysis and auditing. Quickly finds problems in your resource, due to which it cannot get into the top search engine results. The free version is enough to effectively fix errors.

Many are unaware of the free version that allows you to crawl up to 500 URLs. Of course, the functionality in it is reduced compared to the paid version, but it is great for small projects and site audits.

SEOlyzer

SEOlyzer is an amazing log analysis tool with cool features like real-time analysis and page categorization. By aggregating all unused data, SEOlyzer offers efficient SEO KPIs. It helps to improve your organic traffic, detect and correct errors (404, 500, etc.), check redirects, monitor page loading speeds and guides search engines to crawl strategic pages in priority.

Xenu

Xenu is designed for internal site audits and search for broken links.

In addition to finding broken links, Xenu can search for pages with a long response time, high weight, find duplicate titles, images without an alt attribute, create a sitemap, etc

Xenu can analyse both the entire site and its individual pages. It is also possible to analyse local documents on a PC.

Keyword Research

Want to plan effective Adwords and SEO campaigns for your websites? Keyword research tools can help you find the most popular long tail keywords on the top-performing websites.

Buzzsumo

For content creators all across the world, BuzzSumo is the go-to content marketing platform. You can develop fantastic content, keep track of your brand and industry, and look for ways to expand your business. BuzzSumo makes thorough content research accessible, quick, and simple.

Keyword Explorer

If you are unfamiliar with Moz's amazing keyword research tool, you should definitely give it a try. It offers 500 million keyword suggestions and the most accurate search frequency ranking in SEO. A free public Moz account gives you access to 10 queries per month, each of which will provide a selection of 1000 keywords and search results analysis.

Keyword Planner

Keyword Planner tool was created by Google for people who buy contextual ads on Google, but it also provides a wealth of information useful for compiling a semantic core. This Keyword Planner uses Google's internal information and comes with useful features such as geo-location filtering. But be careful with indicators such as competitiveness (this applies to paid placements) and frequency – they can be confusing.

Keyword Surfer

Keyword Surfer is a completely free extension that lets you see search volumes right in the Google search results.

The easiest approach to uncover search statistics, do keyword research, and obtain content recommendations is to use Keyword Surfer. You'll get search volumes, CPC, keyword recommendations, related keywords, visibility metrics, and on-page statistics for each new search in Google.

Quetext

The plagiarism checker in Quetext analyzes your text to detect plagiarism, fix other writing mistakes, and provide citations quickly.

Ubersuggest

Developed by internet marketing guru Neil Patel, Ubersuggest is one of the popular SEO tools. This makes it easy to discover new content ideas and get useful keyword suggestions.

Ubersuggest also provides some additional functionality. For example, it shows top-ranked pages, backlink data, a full view of a domain, and even provides tools to audit a website.

Link Tools

Services for searching, evaluating, and processing backlinks.

Backlink Checker

Not many people know that Ahrefs offers a free Backlink Checker, and it's pretty good. Of course, the free version has a number of limitations compared to the full-fledged paid counterpart. For example, you're limited to 100 links and won't be able to search by prefix or folder, but it's handy for quick link checks or if your SEO budget is limited.

Link Explorer

Today Link Explorer is perhaps the largest and most accurate link indexer with functions for checking domain authority and backlinks. It boasts 35 trillion links. Free registration will give you 10 queries each month and 50 rows of data per query, plus you'll get basic link metrics in MozBar while browsing the web.

Link Miner

Link Miner is a free extension for the Chrome browser developed by John Cooper, one of the masters of link building. Use it to quickly find broken links on every page, as well as to view key link metrics when using Google search. A simple and useful tool.

PitchBox

Pitchbox allows you to locate influencers in your niche in seconds thanks to its many prospecting profiles and straightforward keyword search. Integration with key SEO providers like Moz, Majestic, SEMRush, Ahrefs, and LRT ensures that only the most authoritative publishers are pulled back.

Without any manual input, you can design each outreach email to your target opportunities and automatically follow up with prospects who haven't answered, increasing response rates.

Local SEO

Free optimization tools for local SEO.

Bing Business

Bing Places for Business is Microsoft's free business directory. It's comparable to Google My Business profiles, which also appear in local search results. This platform provides access to approximately 1 billion monthly consumers as well as a major competitive advantage to those that use it.

Brightedge

BrightEdge transforms web content into measurable business outcomes – traffic, engagement, and profit. Because it crawls the web and collects first-party data, BrightEdge's SEO platform can analyze digital content engagement across all digital channels, including search, social, and mobile in real-time.

Google My Business

In fact, Google My Business is the most popular tool for local SEO, especially if you work in a niche served by Google. It allows you to advertise your company, manage list information, and respond to customer reviews, among other things. Building a company profile forms the basis for most other local SEO operations, which is why this step is so important.

Google Review Link Generator

Google Review Link Generator from Whitespark solves a simple problem: how do you give customers a URL so they can review a business? User reviews increase rankings, but leaving them on Google is not easy. This generator makes things easy.

Local Search Results Checker

One of the most difficult tasks of local SEO is figuring out the rank of a page in the SERPs in a specific region, especially when Google persists in producing results that are relevant to the geographic location where you are. But BrightLocal has solved that problem with a quick Local Search Results Checker tool that can take you virtually anywhere on the planet to check a site's position in a specific region.

Mobile SEO

Tools to optimise your site in the mobile world.

Mobile First Index Checker

Mobile versions of sites often differ significantly from desktop versions. Since Google moved to the new Mobile-first indexing principle, now you need to make sure that the main elements of the pages (links, structured data, etc.) match in both versions. There are many tools for such a check, but Mobile First Index Checker developed by Zeo, perhaps, has the widest functionality.

Mobile-Friendly Test

The service determines whether your page meets the requirements of Google for mobile devices. If your page passes the test, Google considers it mobile-friendly, which is an (albeit small) ranking factor. If your page is not suitable for mobile devices, the Mobile-Friendly Test service will provide specific recommendations for improvement.

Mobile SERP Test

It's amazing how mobile search results can vary by location and specific device. The Mobile SERP Test tool from MobileMoxie allows you to compare page positions in search results on different mobile devices for any region and location, up to specific addresses.

Think With Google

Think with Google is Google's solution to 'data matters,' a one-stop shop for understanding industry trends, customer behavior, marketing insight, etc.. Latest Insights, Research Library, Planning Tools, Facts and Stats, and Thinking Ahead are some of the sections on the website where you can get information. You can also grow your business by improving your mobile site.

Multi-Tool

Here are multi-tools to improve your SEO.

Ahrefs

Ahrefs is a premium website analyzer with advanced features. It offers a wide range of tools, including a site, content, and keyword explorer, as well as the ability to perform a comprehensive site audit.

The tool shows you which parts of your website need improvement in order to rank higher in search engines. In terms of competitor analysis, you will likely use Ahrefs to identify competitor backlinks to use as a starting point for your own brand. You can also use this SEO tool to find the most relevant content in your niche, check and fix broken links on your website, and get an overview of your top-performing pages.

Chrome DevTools

With the Chrome DevTools service, you can perform a huge number of SEO tasks. Its multitasking is amazing: from source code auditing to internal optimization. Some of the best options are hidden, but they are absolutely amazing.

DataForSEO

DataForSEO offers API-based data solutions for SEO and digital marketing. It is the most reliable source of data for SEO software companies and agencies.

Duplichecker

Duplichecker is a high-quality SEO and text analysis software. It offers plagiarism checker, paraphrasing tool, reverse image search, backlink checker, XML sitemap generator, backlink generator, site link analyzer and keyword research tool.

SEMrush

SEMrush is an all-in-one marketing toolkit for digital marketing professionals. Moreover, even the free version offers great opportunities for professionals. Unlike other competitor analysis services, this program only shows the top keywords that the selected site actually bids on.

One of the most popular features of this SEO tool is Domain Versus Domain Analysis, which makes it easy to compare your website with competitors. If you need insights to help you better understand search data, traffic to your site, or even your competitors, you can compare keywords and domains. The on-page SEO checker tool allows you to easily track your ranking and find some recommendations to improve the performance of your site.

SEOquake

In addition to providing an array of data for each visited URL, SEOquake also allows you to perform basic on-page optimization checks, compare domains, and export data.

This Chrome extension acts as an SEO checker tool that performs an on-page site audit, evaluates both your internal and external links, and compares websites to determine how you perform against your competitors. Other features of this SEO analysis tool include keyword analysis such as keyword density, an easy-to-read SEO dashboard, and an export feature that makes it easy to upload and send data to people on your team.

Small SEO Tools

Small SEO Tools includes a collection of over 100 original SEO tools. Each tool performs a very specific task, which explains the name of the service. The great thing about this collection is that, in addition to more traditional tools like backlink checking and keyword research, you'll find many rare and very specific tools to optimize PDFs, work with proxies, and even JSON microdata.

Surfer SEO

This is a cloud-based on-page optimization tool that reviews your site and compares it to those that are at the top of search engine results. Surfer SEO is used to advance your content for first-page rankings.

On-Page SEO

On-Page SEO is a set of techniques and practices aimed at optimizing the internal content of web pages for better search engine ranking results. The ultimate goal of internal optimization is to achieve more traffic to the site.

Raven Tools

Raven Tools is a technical SEO-focused tool that works on rank tracking/reporting and site audits to create more user-engaging content. It helps you increase your web traffic and provides tools for keyword research, backlink, and competitor analysis.

Rich Results Test

Is your page able to support rich results? To discover which rich results may be created from the structured data on your publicly available website, use the Rich Results Test.

Seorch

Seorch is a tool for on-page SEO. You'll be able to determine how well a website is optimised for search engines, examine on-page factors, and make changes to your site. Free SEO tools are also available to help you enhance your rankings, uncover technical issues on your website, and research keywords.

Structured Data Testing Tool

The official Google tool for evaluating your structured data to determine which Google-rich results in your structured data on your page may generate. A new Structured Data Testing Tool is aimed to better represent Google's view of your information.

View Rendered Source

View Rendered Source is a free plugin for the Chrome browser that will allow you to render the Document Object Model (DOM) of any URL and compare it to the original HTML. Great for auditing JavaScript code and troubleshooting.

Content

Tools that help you improve your content or give you ideas on what to write about

Answer the Public

The tool gets data from search engines like Google and picks out every useful question/phrase people ask around. So, it is a (free) content idea-generation tool that provides a lot of terms/topics that users often need. Answer the Public gives a visualization of topics you may turn into blog articles or web pages.

Dropbox Paper

Dropbox Paper is not simply a doc, it is a co-editing tool with content creation and coordination functions. You can work on various projects, and team tasks with the help of a to-do list template, and add code lines, notes, images, and even animated gifs.

Google Docs

Google Docs is nowadays the most widely available and free content-sharing tool. Multiple users are allowed to work on a single document due to the cloud-based document editing platform. The tool has all the necessary features you need from a word processor: customizing your fonts, creating bullet lists, inserting tables, adding images, sharing a file with other users, and specifying access privileges.

Grammarly

Grammarly is a free Google Chrome plugin provider. It is a writing assistance tool that detects errors in spelling, grammar, and punctuation. It allows you real time content editing and ensures it is error-free and optimized for your audience's reading level.

Hemingway App

Hemingway is an editing and distraction-free writing tool. It polishes your writing, and corrects/highlights grammar, sentence structure, and fluency, to make your content read and look better. Tools like the Hemingway App pare down your content and write in a way that makes sense to your target audience.

MarketMuse

MarketMuse is a content optimization/planning tool that assists in optimizing content with the help of AI (artificial intelligence), predictions, SEO strategies, and trend data. MarketMuse improves organic search ranking and helps reach more readers with its tools for content analysis, strategy, research, and creation all in one platform.

OpenAI AI Text Classifier

The OpenAI AI Text Classifier is a tool that can classify text into predetermined categories or tags based on its content.

Portent's Content Idea Generator

Portent's Content Idea Generator tool is the best among content-generating tools. It helps users create attention-catching headings for blog posts, videos, or podcasts that the audience can't help but click on.

Quora

Quora helps users gain and share their knowledge by asking questions and contributing useful answers and individual insights. It will helps deliver your content to the right people and attract backlinks by providing you with plenty of blog post ideas and questions for FAQ pages.

Reddit

Reddit is an American social news aggregation, content rating, and discussion website. "Redditors" (registered users) here submit content like videos, text posts, links, and images that later are voted up/down by other members.

Site Speed

Services for checking the speed of loading a site and the possibilities for its acceleration are advised by SEO experts.

Cloudflare

In addition to a free content delivery network (CDN) to speed up your site, Cloudflare also provides easy DNS record management and completely free DDoS protection. By the way, the paid features here are super cool and surprisingly cheap.

GTmetrix

GTmetrix is one of the many website performance tools that SEOs prefer to use. It generates standard reports such as PageSpeed, YSlow, and Waterfalls and automatically visualizes historical data for each page it analyzes.

Lighthouse

Lighthouse is an open-source automated tool from Google that allows you to determine the speed of a site. It is also state of the art, especially in terms of performance analysis for mobile pages and PWAs (Progressive Web Applications). Google uses a very similar rating scale in its ranking algorithms.

Page Speed Insights

Another tool from Google, based on Lighthouse and with one very important innovation: Field Data. Page Speed Insights uses metrics collected in the Chrome User Experience Report to provide a realistic view of page loading speeds for users around the world. Not suitable for every page, but still very useful for those who want to make pages load faster.

Pingdom Website Speed Test

Pingdom Website Speed Test was created to assist you in determining the speed at which your website loads. The test is intended to assist you in making your website faster by determining what aspects of a webpage are fast, too large, etc.

SpeedMonitor.io

If you are not too lazy to manually log in to the site every day to check the performance, we recommend that you take a closer look at SpeedMonitor.io. It uses Lighthouse data to estimate page loading speed, then tracks this parameter and saves the results – all for free. You can even add competitor site tracking and on-demand auditing.

WebpageTest

Webpage Test has a lot in common with GTMetrix. It breaks down overall performance into easier-to-understand metrics and produces the most detailed reports you can find.

Web.dev

With web.dev you can see the results of your work and get detailed guidance on how to improve it. Thanks to this tool, you can easily track your progress over time.

WordPress Plugins

Here are the best WordPress plugins for improving SEO.

Rank Math

A novelty that quickly won the hearts of a number of professional SEOs. The Rank Math plugin is full-featured and contains several interesting features such as built-in redirection, which eliminates the need to install additional plugins or pay for updates. Definitely worth a look.

Yoast SEO

There is no other WordPress SEO plugin that gets as many recommendations as Yoast SEO. There is a reason for this. This tool is so simple that content optimization is a pleasure.

Yoast SEO is a flexible and affordable solution for professional marketers and beginners alike. And the best thing is that all the main features of this plugin are absolutely free. That shouldn't stop you from trying out the premium version, which takes optimization to the next level!

With it, you can easily enter all the meta-data, analyze individual pages, the entire site, or articles.

Other tools

Here are a few other tools that can help with your day to day projects.

Asana

Asana a great project management tool for users who need software to keep track of the essential tasks related to their business. Also, it helps create advanced to-do lists and organize assignments. So, your team will become more organized.

Google Admin Toolbox

Google Admin Toolbox can help you debug browser issues, check the DNS or dig a domain/URL. It has a Log and HAR analyzer, encoding and decoding functions that are helpful for debugging web-related problems. It even has a built in screen recorder.

Inspectlet

Inspectlet is a tool that allows users to make video records of their site visitors and see everything they do. With Inspectlet you can view every click, mouse movement, scroll, and user input on the site. Based on those analytics, you can make changes to your content and make it more engaging for the readers.

Slack

Slack is a task management and communication tool through which users create specialized messaging groups and channels for various teams or projects.

Summary

Depending on your needs and goals, each tool may be the best one for you. It's worth remembering that most of the tools mentioned above are free to use for a limited time. This is a great option to test each one and find the perfect match for you.

Checklist for Website Migration

Any website migration project comes with it's challenges and risks, especially with search engine optimization. I have compiled this checklist to make it easier for SEO professionals to prepare for a website migration.

Whether you are migrating from HTTP to HTTPS, non-www to www (or vice versa) or to a completely new domain, I hope this list will come in handy.

Website Migration Process

When someone tells me about website migration, I prepare for 3 stages:

Pre Migration
Launch Day
Post Migration

These are the stages and allow the SEO specialist to prepare for it properly.

Questions to ask before a website migration

Is the migration worth it?
Does the website have established search engine traffic?
Are there high traffic pages that may be affected?
How would this migration affect the back link profile of the website?
What are the SEO benefits after the migration?
What are the SEO risks from this migration?
Will there be code/architecture changes caused by the migration?
Etc.

Website Pre-Migration Checklist

Identify growth opportunities and risks
Set realistic objectives and goals
Prepare the project plan
Review prototypes and wireframes (if there are changes)
Purchase and setup SSL for new domain (if domain is changing, or SSL migration is your goal)
Setup hosting for the new domain (if different from current domain)
Prepare the SEO specifications (there are always SEO implications, make sure to cover all the grounds)
Identify priority pages (you need to make sure your top traffic pages are safe)
Benchmark analytics/SEO traffic/backlinks
Review staging environment setup (if you have one)
Review page templates (if there are changes)
Review content
Review all internal links
Review technical SEO

Crawl time issues
Cloaking checks
Javascript crawling
Mobile optimization
Structured data
Pagination(s) / prev/next meta tags
404 pages
Sitemap files
Hreflang (if any)
Site speed checks

Check redirects
Review analytics setup
Generate a full content inventory
CDN Configuration Preparation
Ads & 3rd-Party Extension Preparation

Google Tag Manager
Adobe Analytics
Google Analytics
Facebook Pixel
Etc.

Add new domain to Google search console and verify

Website Launch Day Checklist

Spot check search engine crawling

Old URL redirects
New URLs
Internal links
Robots.txt
Server responses
Canonical tags
Noindex/indexes
Cloaking checks

Google Search Console

Request indexing of the new site
Carry out site change in search console
Spot check URLs for crawling
Check and update URL parameters
Submit and test sitemap XML files
Configure URL parameters

Crawl using bots
Create a new content inventory
Compare new inventory to old inventory
Check to make sure legacy redirects were not lost
Check to ensure no long redirect chains
Compare old and new meta data comparison

Titles
Descriptions
Headings
OG tags
Etc.

Update all social media links
Update all Ads & 3rd-Party Extensions

Google Tag Manager
Adobe Analytics
Google Analytics
Facebook Pixel
Etc.

Check for any third party software and update the domains

Website Post-Migration Checklist

Regularly check the index coverage report
Monitor sitemap indexation levels
Keep an eye on crawl stats reports
Download and review crawl errors
Fix any errors ASAP
Look out for mobile usability issues
Track top keywords daily
Keep an eye on performance reports

Mobile speed
Desktop speed
Bounce rate
Conversion report

Update all social media links
Update all Ads & 3rd-Party Extensions

Google Tag Manager
Adobe Analytics
Google Analytics
Facebook Pixel
Etc.

Check for any third party software and update the domains

Quick Guide to Content Writing for SEO

If you are planning to write content for your blog or website, or you are just freelancing for your clients, you need to consider using language and writing styles that are not only user friendly, but also optimized for search engines.

Vast majority of new users find content through search or social media. So you need to ensure your content and it's presentation is attractive to bots and users.

In this article I will try to outline what you need to keep in mind when creating your content.

Meta Titles

Meta titles may not be that obvious, but they show up in user's browser window or the search engine results:

Meta titles also influence the Click Through Rate (CTR) from search results. The more attractive and clickable they are, the more traffic you should expect.

So how do you optimize meta titles?

Include numbers – e.g. 10 ways to …
Put your main keyword(s) in the front
Keep it under 72 characters
Ask a question – how to …
Readers addressing – the best way to …
Headlines with numbers are always winners so try to include them in the headline. Just like in any other type of marketing you'd use things like "#1", "1,000,000 copies sold" etc.

If you really want to sell something, put a number on it!

Try to think as a user and understand what type of Title will get the best CTR for that particular topic.

Meta Descriptions

Meta description is even less obvious, it usually shows up in the code of the website, in the <header> portion of the HTML code. Search engines may use this information to display in the search results, right below the Meta Title, but as the technology advances, search engines may also generate the result snippets based on the user's search and intent.

Use meta descriptions to help guide search engines as they help search engines and users understand what the topic is. Just as the meta title, we need to keep this SEO and user optimized to get the best possible CTR.

The suggested length for a meta description is 150 – 160 characters (for mobiles under 113 characters including spaces) to be fully visible in search engine results. Your meta description should be super relevant to your whole article and show the searcher that this is exactly what they are looking for.

It's very important to start with relevant keywords, so that users can quickly understand that your article is related. Also, don't forget to have a Call to action part, just like "Call us today!" or "Get a free quote" etc. CTA can be at the end. Include questions, to which your article gives answers.

One last note, don't use the same description on all or many pages of your website, make them unique and related to the specific page.

Table of Contents

Just like every book has it's table of contents, it's also important in modern day web. Especially if your article is long and answers many questions. The table of contents tells you what are the most important things in the article (the headings of each section), along with where they are located.

This also helps the user experience, they can quickly jump to different sections that they are interested in.

Some ideas for headings and a table of contents could include answering questions that people ask. If you are not sure what questions to answer, just do a simple Google search for your keyword, and see the sections that are titled "People Also Ask" and "People Also Search". In other words these are called PAA and PAS.

You can also look at other questions that show up in the results, these are called FAQ. With a proper markup websites can show up with their FAQ lists in the Google search result pages.

Headings (H1-H6 Tags)

There are 6 heading tags, most commonly websites use H1 through H4. As you probably guessed H1 is the main Heading of the page, while H2-H6 are secondary. It's a best practice to structure them properly, have the H1 on top and above all, use H2s within H1 and H3s under H2s (and so on), just like you'd structure your Table of Contents. If you haven't used an H2, don't jump to H3.

Always include your keywords, or related synonyms, or even PAAs in your secondary headings. Your H1 introduces the topic, just like a book title. H2s are similar to the chapters, describing what you will cover in these sections. And H3 to H6s are the subheadings for each of the H2s you have.

Even though we are discussing content writing for search engine optimization, your primary focus should be the user. Optimize for them first, and then adjust for search engines. Headings must be interesting and eye catching, engage with them so they read each section of your content.

People Also Ask (Questions)

Heading tags make a positive impact on SEO, in particular with featured snippets. Those are answers to questions you get within search results, without visiting another website.

So when writing always try to answer some of the questions people may be looking for, use the search results as a guide to see what they need:

Internal and External Links

When you write about a topic it's always good to link to other pages of your website and/or other trusted sources. Try not to overdo with links as each link passes some portion of your page's value to the page you are linking to. But also don't be afraid to put links to relevant sources, studies, templates or documents.

If you are unsure of the source website's validity and authority, then try to find a link from a reputable site that you or others can trust.

Internal links are vital for your website's indexation. It helps users find relevant content you have published on other pages. Again, always keep it related to your topic. Don't focus on making links, just use them wherever it comes to it, keep it real.

Scannable Content

I am one of those, yeap, I don't like reading and anything I check I scan through to see which part (if at all) is interesting to me, and only read the portion that I need.

So what is scannable content?

Scannable content is short, sweet and to the point. Sentences and paragraphs are brief. Bold text and bullet points highlight key points.

So if you want to create scannable content try the following:

Make it short, sweet and to the point
Paragraphs and sentences should be brief
Bold, italic texts and bullet points should highlight the key elements
Have proper spacing, it removes the clutter and makes it easy for the eye to follow
Follow the four-syllable rule .

Images

Images are important within your article, especially related. For example if you are writing about a specific template document, you may want to make a screenshot of it and use that image within your article. There are many types of images you could utilize with your content, whether it is a screenshot, infographic, stock photo, etc.

The number of the images should depend on the length of your article, if you have a related image to share with your content, go ahead. Just like links, don't overdo it either. Position them so they are relevant to your readers and provide value, and aren't just an eye candy.

Here is a related infographic about SEO content writing:

Tools

There are many SEO tools out there, but only a few that help with content writing and keyword research. Here are a couple of them that could come in handy:

Ahrefs

Ahrefs is website audit and competitor research tool. It's keyword and content explorer come in handy when researching topics to write about. They also provide a lot of educational videos on their Youtube channel.

MarketMuse

MarketMuse is another tool I'd recommend, its a content AI tool that helps you compare your content with top rankings sites for your main keywords. It also provides suggestions on what other keywords to use in your article.

CopyScape

Duplicated content is a challenge in SEO, you may even get penalized or rank much lower if your content is not unique. CopyScape helps check duplicated content across other websites.

Tips on Content Writing for SEO

Synonyms

When you write long articles and focus on a primary keyword, you may keep reusing it so many times that it just turns out overused. This causes "keyword stuffing". In order to mitigate the risk you may want to use synonyms for your main keywords, headings or link anchors.

For example if you have "SEO consultant" keyword as your main focus term, you can use other synonyms such as "SEO expert", "SEO professional", "SEO pro", etc.

External Resources for Further Reading

Here are some additional resources to help you create compelling content that also ranks

Google penalties can leave website owners feeling stranded and losing a lot of money. One website owner came to me for help after learning that their site wasn't even ranking for its own brand name. The site, an industry leader with a 10-year old domain, was under an algorithmic penalty.

Continue reading →

Redirects are a confusing necessity. There are 301, 302, 307, 308, HTTP Header, JavaScript and Meta Refresh directors. It's a lot to absorb. Some redirects are faster than others. There are permanent redirects and temporary redirects. When do you use which redirect?

Are redirects necessary? Are you leading crawlers down a chain of redirects and losing around 10-15% of authority for every step of the chain?

You can setup a redirect quickly, it takes just a minute or two, but redirects can either help your SEO efforts or harm them. Let's see what purpose redirects serve before diving in to see which common SEO issues improper redirects can cause.

What is a Redirect?

Redirects help you forward one URL to a different URL. Let's say, for example, your site's CMS created dynamic URLs for products. The URL may look something like this:

www.example.com/product.php?id=12

From the URL above, we don't know that the product is actually a t-shirt that comes in an array of colors. Dynamic URLs may have colors and sizes in the URL, too. Not only is the URL unfriendly, but the URL is not optimized for SEO.

You've gained natural links to this example page, and instead of losing the value of these links, you have a better option: redirecting.

You've now chosen an SEO-friendly URL, and you've used a 301 redirect to pass some of the link value you've gained to your new URL:

www.example.com/shirt/red-batman-tshirt

The URL is descriptive, has some SEO value and will be moved permanently thanks to the 301 redirect you used.

If a crawler lands on the page or a customer has texted the page's URL to a friend, they'll automatically be directed to your new page. There are no confusing errors or potential to lose a sale because you changed a URL or the structure of your site.

What are the Different Types of Redirects?

End-users may not know the difference between one redirect type over another, but Google's crawlers will learn a lot from the redirects that you choose. You don't want to lose your organic rankings, so you need to carefully choose the type of redirect your site, page or file will use.

301: The most common form of redirect is a 301. This tells search engines that your site has moved permanently. A response code is sent to crawlers when they land on the page, which tells it that the page has moved to a new URL. A 301 redirect can help your site save 85% – 99% of link equity.

302: The 302 is meant when redirecting users or bots from one page to another, with plans on bringing the original page back. The 302 redirect has changed from the first iteration of the HyperText Transfer Protocol (HTTP) to version 1.1. Originally, the 302 was defined as "Moved Temporarily," to "Found" in the 1.1 version of HTTP.

307: You would only use a 302 or 307 when conducting internal testing, or if you're conducting maintenance and don't want users to land on a page or sub directory. The 307 redirect is the "new" Moved Temporarily direct as of HTTP 1.1. But it's best to use a 302 redirect because crawlers seem to treat the 302 redirect as a temporary move.

308: A 308 redirect means "Permanent Redirect." Google's John Mueller confirms that a 308 is treated as a 301 redirect when it redirects one URL to another.

HTTP Header Redirects: HTTP redirects include status codes that are transmitted from the server, a website, to the client, or browser. The user requests a webpage, and headers are sent that redirect the page as required. Programming languages, such as PHP, allow you to utilize HTTP headers to tell the client that a page has moved. When dealing with multiple redirects that go through a particular file, it's often easier to use HTTP Header Redirects.

Meta Refresh: Redirects can be made on the server level, or on the page level. Meta refreshes are performed on the page level, and most SEO experts don't recommend this method because it's slower than on the server level. Speed plays an important role in SEO, so it's best to skip meta refreshes for any redirecting on your site.

JavaScript Redirect: JavaScript can also be used to redirect a user from one page to another, but search engines may treat these redirects differently. Bing used to have issues with JS redirects, and it should be used as a last resort. JavaScript redirects may or may not work, despite Google seeming to follow them since 2014/2015. If a user is blocking JavaScript, they may still land on the original page.

SEO Best Practices When Using Redirects

If you plan on passing your SEO value or equity from a former page or website to another, it's best if you choose a 301 redirect on the server level to keep 85% or more of value.

Some value is lost when performing a redirect, and this is why many SEOs will caution before using redirects.

Google has claimed, in the past, that all redirects will pass all PageRank value.

Can this change?

I think so. If you go back to 2013, Matt Cutts of SEO claimed that sites lost about the same amount of PageRank from one page to another. But things change, algorithms evolve, and this is the very nature of Google and search engine optimization.

If you go back to 2016, just three years after Matt Cutts confirmed that PageRank was lost, Gary Illyes confirmed that 30x redirects no longer lose PageRank.

So, in the worst-case scenario, you'll lose 10-15% of value with a redirect, although Google claims that as much as all of your value may be passed through a redirect.

In terms of which type of redirect you use, Google claims that their algorithm will be able to "figure it out." If you're moving pages permanently, you can speed up this "figuring out" by using a 301 redirect.

For speed purposes, use a server level redirect.

Note About PageRank: Google stopped allowing public access to PageRank, but it's been confirmed that PageRank is still one of the many signals Google uses when ranking a page.

Common Problems Faced When Using Redirects

Redirects can cause issues on a website, or redirects can cause problems if they're implemented improperly. The most common issues with redirects are:

Redirect Chains

Redirect chains

Redirect chains are exactly what they sound like: a chain of redirects. Perhaps you redirected your about page to "/about," but then someone else determined you should redirect this page to "/about-us" then "/about-our-firm."

You have three redirects occurring in a chain.

The original "about" page should have been redirected to the final page.

When you have multiple chains, you'll lose some authority for each "link" in your chain. Your site will be slower and the number of server requests will be artificially multiplied.

Every redirect takes time, so a chain of redirects will also have a negative impact on your site's bounce rate and potential rankings.

You should run a full scan on your site to try and find any potential redirect chains and correct them. Screaming Frog is a great tool for checking Redirect Chains.

Cleaning up these chains will speed up your site's load speed and allow your site to retain a lot of its authority in the process.

Redirect Loops

Redirect loops

A redirect loop will cause website crawlers to stop dead in their tracks. There are times, especially when working with large teams, that your redirects will cause a massive loop. Many browsers have come to recognize these loops because there's no way out of the loop.

Using the example above, let's assume someone decided to redirect "/about" to "/about-our-firm." But there was a miscommunication along the way, or someone made an error and redirected "/about-our-firm" to "/about."

So, when search engine or a user lands on the "/about" page, it will:

Redirect to "/about-our-firm"
Redirect back to "/about"

The cycle will continue and ultimately fail. Correcting the issue requires you to remove one of the redirects.

While a redirect loop may not cause harm on an about page, imagine the same error on a main landing page. Sales will be lost; revenue will be lower and potential customers may have decided to purchase from a competitor.

The quick and easy way to correct redirect loops is to test every redirect. Keep logs of all redirects internally so that anyone who chooses to SEO your site has a clear picture of your current redirect structure.

Crawling tools will be able to catch these redirect loops.

Case Sensitivity

You can redirect URLs in a variety of ways: Meta Refresh, JavaScript, .htaccess files – to name a few. When redirecting, it's important that the right rules are passed, in case of a .htaccess file, that will not be case sensitive.

In this case, you would need to pass either the appropriate rule, which may be "NC" when using RewriteRule.

You want to make sure that the redirect works whether you go to "/About," "/about," "ABout" or any other iteration.

Mass Redirection to the Homepage

Mass Redirects to Homepage

"More is better," but that's not always the case with your redirects. A common issue that is overlooked is that redirects are meant to be implemented to pass authority. Let's assume that you have a pet website, so you may have pages for dogs, cats and lizards.

You have 452 links coming from 50 dog pages, so you have an idea: let's redirect these pages to the homepage.

Sure, you'll lose some authority, but redirecting these pages to the homepage will pass authority and may help boost your entire site's rankings.

It sounds great, but SEO crawlers are a lot smarter.

Search engines know that website owners want higher rankings, so mass direction is a natural occurrence to Google.

But what does this do for your rankings?

If you have the time, I recommend watching this video by John Mueller (it's an hour long). What Mueller suggests is that mass redirects to the homepage may not pass on any link equity at all. When a large number of pages are redirected to the homepage, it's a red flag to Google and is a questionable move.

It would be better, from a relevancy standpoint, to redirect these pages back to their respective category pages if they're not redirected to highly relevant pages.

Google sees these redirects as soft 404 errors.

Improper Redirects of a URL Containing URL Parameters

Some URLs have parameters in them, and while tracking parameters may not matter much, other parameters do matter. For example, the URL mentioned earlier in this article made use of parameters.

Content-modifying parameters, as Google calls them, would be something along the lines of: www.example.com/product.php?id=12.

Now, if you have only 12 products, you can use redirect files to redirect these parameters to something more natural, such as: /product/t-shirts. But let's assume that you have 10,000 products – your redirect file will be massive.

Files are a messy way to handle these redirects, and it will greatly slow down your server in the process.

In this case, you would want to perform a redirect on the page-level. Yes, page-level redirects are slower, but they will be faster when there is a massive list of redirects in a redirect file.

Another method would be to edit the product.php page to perform the redirect.

How?

It depends on the programming language.

In PHP, you would use the header() function. A basic example of this would be:

Header('Location:' . $url, TRUE, 301);

The trick is to set the $url variable properly, accounting for the id which is passed through the URL.

You'll need a little know-how in programming to handle this type of redirect using coding, but it's a neat way to handle the request without using a large redirect file.

301 Redirects VS Canonical URLs

A lot can go wrong with 301 redirects, as we outlined previously, but what happens when you add canonical tags into the mix?

You're causing Google to run down another rabbit hole.

Canonical tags are inserted into an HTTP header or HTML head tag, and they serve a very important purpose. When you use these tags "rel=canonical," you're telling search engines that certain URLs are actually the same.

This is a form of a soft 301 redirect.

For example, you may have the URL: www.example.com/product.php?id=12 and www.example.com/product/t-shirts which contain the same content because "12" is actually the identification number for "t-shirts."

You can push search engines to the appropriate page using canonical tags.

This is ideal when the content is similar, or you have multiple pages with the same content. Rel=canonical has been shown to pass the same amount of link equity as a 301 redirect.

You'll want to use the rel=canonical tags when:

301 redirects are difficult or not possible to implement
When your CMS creates dynamic pages on-the-fly
When multiple pages lead to the same content

Of course, you do not want to use canonical tags on new websites – you should not create duplicate content issues in the first place. If you use this tag across the entire site to push authority back to a single page, you'll find that a large chunk of these links will be de-indexed by search engines.

You Don't Need to Redirect Every Page You Delete

When analyzing a site, you may come across pages that don't work for your site any longer. Perhaps you run a veterinary clinic, and initially, you had a boarding page that had all of your clinic's boarding information listed.

You may have started out offering this service, but you decided that it was not profitable or took up too many resources.

You deleted the page.

Do you need to redirect the page? If it had a lot of link equity, you may redirect the page to a blog post about animal boarding which also mentions a few vets in town that offer this service.

But let's assume that the page really had no link equity or SEO value.

You don't need to redirect this page.

It's okay for a page to produce a 404 error – websites often delete or retire pages. You don't need to fix every error page using redirects, and it will be better for your site to not redirect every page.

You can create redirects on the server-level using .htaccess files in each folder, but it can quickly become messy, especially on sites with tens of thousands of product pages. Instead, if a page really has no value or purpose any longer, you can delete the page and let the server produce a 404 error page. These error pages can suggest related content or resources to keep the user on your website.

Every site will have a few 404s, and this may just be a person typing in the URL wrong.

If you don't create a custom 404 page, the user will be presented with a generic 404 page that is not personalized to your site. You can implement custom pages either on the server or using your CMS.

The .htaccess file, the same one used when creating redirects on Apache servers, is the file you'll need to create a custom 404 page. The following code can be used to tell the server to go to a specific page when a 404 error is found:

ErrorDocument 404 /error-page.html

You can change the error page to your desired page. Ensure that you test your error pages to make sure that they're working properly. You can now customize the error produced to:

Provide a user-friendly error
Follow your site's theme
Include links to your site's most popular pages
Include a search bar so that the reader can try and search your site for the content they want to read

If you have lost a valuable link because you've deleted a page or post, you can ask the website owner to change the link to a new URL.

Redirects are a critical part of telling search engines and users where a new page or resource is located. While these redirects happen behind the scenes, search engines will have redirect codes passed to them to better understand the reason for a redirect and why you've chosen to implement the redirect in the first place.

While redirects may be simple to implement, they can be very confusing, with multiple 30x redirect options, meta refreshes and even JavaScript redirects.

If you plan on using redirects, you also need to make sure that a redirect is beneficial compared to a rel=canonical tag which can also be used.

When properly implemented, you'll be able to keep your SEO equity in place, even when changing URL structure or renaming a page.

Conclusion

Redirects help webmasters forward one URL to another while retaining most of the original URL's equity. You can use redirects when changing URL structures to be more user-friendly, or you can use redirects when you delete certain pages on your website.

When utilized properly, the page will retain most of the link equity, 85% to 99% allowing the page to retain its search engine rankings.

The type of redirect that you use plays a major role in how search engines respond to the redirect. If you produce a 301 or 308 redirect, search engines will realize that the new redirected page is a permanent redirect.

But you can also temporarily redirect a webpage using 302 or 307 status codes. Temporary redirects are often used when you're conducting maintenance on a webpage, and you want to redirect a user to a page explaining that your site is down for maintenance.

Redirects can be done on the server- or client-level. Server-level redirects are often best because they ensure that the redirect is sent properly to the browser whether or not JavaScript is enabled.

Common problems users face with redirects include redirect chains, redirect loops, case sensitivity issues, issues redirecting URLs containing URL parameters and also mass redirection to the homepage.

Testing redirects is key to ensure that your redirects are functioning properly. If you're using redirects as part of your SEO strategy, you must check that the redirects are functioning as intended. You can use a variety of tools to test your redirects, including Screaming Frog which is a great tool for checking if your site has redirect chains.