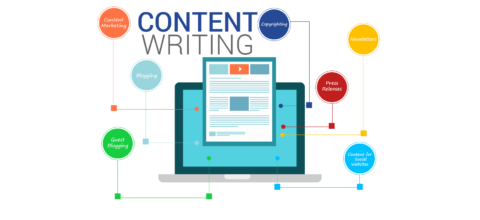 Content Writing for SEO
Quick Guide to Content Writing for SEO

If you are planning to write content for your blog or website, or you are just freelancing for your clients, you need to consider using language and writing styles that are not only user friendly, but also optimized for search engines.

Vast majority of new users find content through search or social media. So you need to ensure your content and it's presentation is attractive to bots and users.

In this article I will try to outline what you need to keep in mind when creating your content.

Meta Titles

Meta titles may not be that obvious, but they show up in user's browser window or the search engine results:

Meta titles also influence the Click Through Rate (CTR) from search results. The more attractive and clickable they are, the more traffic you should expect.

So how do you optimize meta titles?
Include numbers – e.g. 10 ways to …
Put your main keyword(s) in the front
Keep it under 72 characters
Ask a question – how to …
Readers addressing – the best way to …
Headlines with numbers are always winners so try to include them in the headline. Just like in any other type of marketing you'd use things like "#1", "1,000,000 copies sold" etc.
If you really want to sell something, put a number on it!
Try to think as a user and understand what type of Title will get the best CTR for that particular topic.
Meta Descriptions
Meta description is even less obvious, it usually shows up in the code of the website, in the <header> portion of the HTML code. Search engines may use this information to display in the search results, right below the Meta Title, but as the technology advances, search engines may also generate the result snippets based on the user's search and intent.
Use meta descriptions to help guide search engines as they help search engines and users understand what the topic is. Just as the meta title, we need to keep this SEO and user optimized to get the best possible CTR.
The suggested length for a meta description is 150 – 160 characters (for mobiles under 113 characters including spaces) to be fully visible in search engine results. Your meta description should be super relevant to your whole article and show the searcher that this is exactly what they are looking for.
It's very important to start with relevant keywords, so that users can quickly understand that your article is related. Also, don't forget to have a Call to action part, just like "Call us today!" or "Get a free quote" etc. CTA can be at the end. Include questions, to which your article gives answers.
One last note, don't use the same description on all or many pages of your website, make them unique and related to the specific page.
Table of Contents
Just like every book has it's table of contents, it's also important in modern day web. Especially if your article is long and answers many questions. The table of contents tells you what are the most important things in the article (the headings of each section), along with where they are located.
This also helps the user experience, they can quickly jump to different sections that they are interested in.
Some ideas for headings and a table of contents could include answering questions that people ask. If you are not sure what questions to answer, just do a simple Google search for your keyword, and see the sections that are titled "People Also Ask" and "People Also Search". In other words these are called PAA and PAS.
You can also look at other questions that show up in the results, these are called FAQ. With a proper markup websites can show up with their FAQ lists in the Google search result pages.
Headings (H1-H6 Tags)
There are 6 heading tags, most commonly websites use H1 through H4. As you probably guessed H1 is the main Heading of the page, while H2-H6 are secondary. It's a best practice to structure them properly, have the H1 on top and above all, use H2s within H1 and H3s under H2s (and so on), just like you'd structure your Table of Contents. If you haven't used an H2, don't jump to H3.
Always include your keywords, or related synonyms, or even PAAs in your secondary headings. Your H1 introduces the topic, just like a book title. H2s are similar to the chapters, describing what you will cover in these sections. And H3 to H6s are the subheadings for each of the H2s you have.
Even though we are discussing content writing for search engine optimization, your primary focus should be the user. Optimize for them first, and then adjust for search engines. Headings must be interesting and eye catching, engage with them so they read each section of your content.
People Also Ask (Questions)
Heading tags make a positive impact on SEO, in particular with featured snippets. Those are answers to questions you get within search results, without visiting another website.
So when writing always try to answer some of the questions people may be looking for, use the search results as a guide to see what they need:

Internal and External Links
When you write about a topic it's always good to link to other pages of your website and/or other trusted sources. Try not to overdo with links as each link passes some portion of your page's value to the page you are linking to. But also don't be afraid to put links to relevant sources, studies, templates or documents.
If you are unsure of the source website's validity and authority, then try to find a link from a reputable site that you or others can trust.
Internal links are vital for your website's indexation. It helps users find relevant content you have published on other pages. Again, always keep it related to your topic. Don't focus on making links, just use them wherever it comes to it, keep it real.
Scannable Content
I am one of those, yeap, I don't like reading and anything I check I scan through to see which part (if at all) is interesting to me, and only read the portion that I need.
So what is scannable content?
Scannable content is short, sweet and to the point. Sentences and paragraphs are brief. Bold text and bullet points highlight key points.
So if you want to create scannable content try the following:
Make it short, sweet and to the point
Paragraphs and sentences should be brief
Bold, italic texts and bullet points should highlight the key elements
Have proper spacing, it removes the clutter and makes it easy for the eye to follow
Follow the four-syllable rule .
Images
Images are important within your article, especially related. For example if you are writing about a specific template document, you may want to make a screenshot of it and use that image within your article. There are many types of images you could utilize with your content, whether it is a screenshot, infographic, stock photo, etc.
The number of the images should depend on the length of your article, if you have a related image to share with your content, go ahead. Just like links, don't overdo it either. Position them so they are relevant to your readers and provide value, and aren't just an eye candy.
Here is a related infographic about SEO content writing:
Tools
There are many SEO tools out there, but only a few that help with content writing and keyword research. Here are a couple of them that could come in handy:
Ahrefs
Ahrefs is website audit and competitor research tool. It's keyword and content explorer come in handy when researching topics to write about. They also provide a lot of educational videos on their Youtube channel.
MarketMuse
MarketMuse is another tool I'd recommend, its a content AI tool that helps you compare your content with top rankings sites for your main keywords. It also provides suggestions on what other keywords to use in your article.
CopyScape
Duplicated content is a challenge in SEO, you may even get penalized or rank much lower if your content is not unique. CopyScape helps check duplicated content across other websites.
Tips on Content Writing for SEO
Synonyms
When you write long articles and focus on a primary keyword, you may keep reusing it so many times that it just turns out overused. This causes "keyword stuffing". In order to mitigate the risk you may want to use synonyms for your main keywords, headings or link anchors.
For example if you have "SEO consultant" keyword as your main focus term, you can use other synonyms such as "SEO expert", "SEO professional", "SEO pro", etc.
External Resources for Further Reading
Here are some additional resources to help you create compelling content that also ranks